Starting at $217
$30 Consultation Fee (Credit toward extension service if booked with 14 days.)
Approximately 30 million women (25% of all women) in North America experience thinning or fine hair, resulting from diet, heredity, medication, health issues, or simply the aging process. VoMor Hair Extensions allow you to choose to add color, volume or length – for a special occasion or just to make a simple change.
VoMor is proud to be exclusive to the AVEDA network of salons
Fuller, thicker, healthier looking hair in just 15 minutes
VoMor extensions are tape-in and reusable. Reconditioning is recommended twice after the first application.
AVEDA Mission-aligned company values
VoMor extensions are exclusively made from cuticle intact Remy hair, collected and manufactured in a humane manner, and packaged according to environmental guidelines. This is the highest quality in hair available.
Recommended wear is 6-8 weeks; extensions are to be applied and removed by a licensed stylist only.
Available lengths: 12, 16, and 20 inches aligned to the AVEDA color wheel.
Available colors: each length is available in 30 colors ranging from ash blonde to deep black.
Fashion colors with 8 different VoMor Pure Pigments! A great way to add fashion colors to your look without the permanent hair color commitment!
VoMor extensions are safe and do not damage the hair. They are comfortable, natural, undetectable and fast to apply and remove (in-salon only).
HERE'S HOW IT WORKS
Come in for a 15 minute  consultation with one of our hair extension specialists (or add-on the consultation onto your regular hair appointment).  Together, we will discuss your desired outcome and educate you on the maintenance of your VoMor service. We will also go over your anticipated maintenance expense designed to keep your extensions looking fresh. If you are an existing guest of Solaris just ask your stylist about VoMor extensions the next time you are in!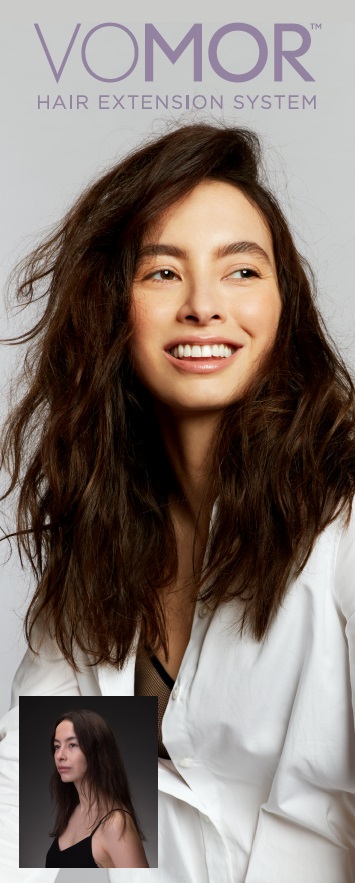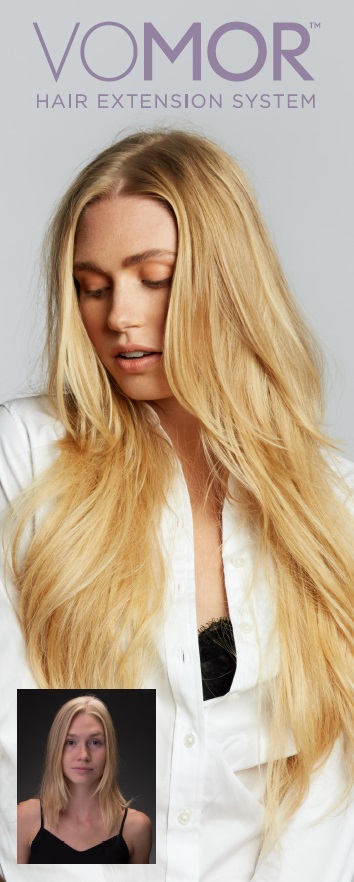 AFTER CARE TIPS
To ensure each guest has the best experience possible we recommend the After Care Tips below. Please make sure to call your Service Provider if any questions or concerns arise.
SHAMPOO & CONDITIONING
Shampoo & Condition 48 hours after application/service.
Always brush hair with a detangling brush prior to shampooing.
Shampoo in an even, downward motion being gentle wit the extensions.
WET HAIR/DRYING
Gently towel blot hair & scalp without tangling extensions.
Gently comb through hair with detangling brush, holding scalp with opposite hand to support bonds.
Blow dry the root area first and ends last. (use fingers, not brush to separate extensions)
Wait until the hair is 70% dry before using styling brush.
SLEEPING
Gently remove tangles with gingers before brushing.
Brush hair with detangling brush.
Loosely braid & secure with a hair tie.
OUTDOOR/ACTIVITY SWIMMING
Use products with UVA/UHB block. (ask service provider)
Loosely braid & secure with a hair tie.
Rinse hair with fresh water immediately after swimming in chlorinated or salt water.
GENERAL CARE
Always use detangling brush.
Always use medium temperatures when using styling tools.
Service extensions within salon only.
Avoid applying conditioner, oils or styling products directly to the bonds.
Retain extensions, in the event that detaching may occur.
PRODUCT TIPS
Condition hair mid shaff to ends, keeping conditioner off the extension bonds.
To avoid slippage, do not apply alcohol based product directly to the extension bonds. Apply only to the hair mid shaft to ends.
Use products recommended by your service provider.
FOLLOW UP SERVICE / APPOINTMENTS
Within 72 hours – You will receive a follow up call from a salon representative.
Every 6-8 weeks – Please schedule your next VoMor hair extension service.